Welcome to our Dog Friendly self-catering apartment:-
Banfield Lodge,
Loughor, Swansea
North Gower
SA4 6TF

....for Gower Peninsula and days out to West Wales (Carmarthenshire and Pembrokeshire)

Banfield Lodge is located on the banks of the River Loughor in the Village of Loughor near Gowerton, Swansea

We are located just a 10 mins drive from Jnc 47 of the M4 motorway

Why visit ?
- 25 mins from secluded expansive Gower beaches like this one at
Broughton/Llanmadoc.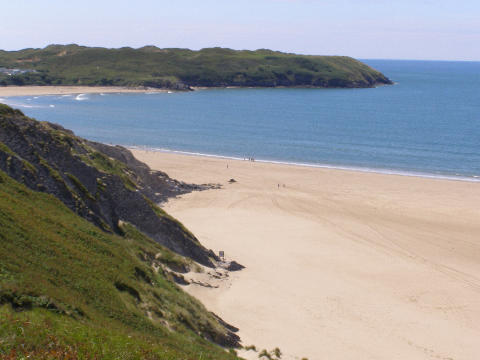 - We are pet friendly, and children of all ages very welcome.
- Lovely country riverside walk immediately in front of Banfield Lodge (see photos below)




- Stumble home 'contented' from a fine Real Ale Inn with food - namely "The Reverend James" - a 5 minute easy walk away from your front door


- 25 minutes by car to local Gower Beaches at
Llangennith/Rhossili, Oxwich, Port Eynon, Llanmadoc, and
Langland.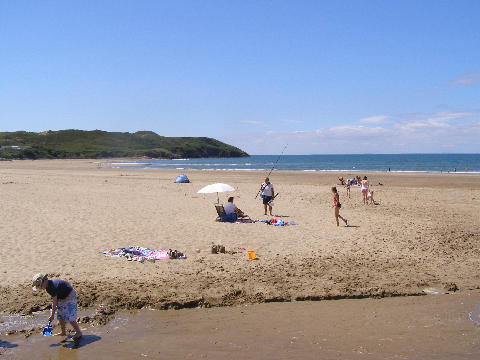 ...only a 2 minute walk to this view below...



The Field next door ...by all means feed the ponies with a carrot

and private exclusive off road parking


We are ideally located near
Jnct. 47 of the M4 for...

Peaceful walking / seaside breaks exploring the
beaches, bays and clifftops of the uniquely
beautiful Gower Peninsula AONB

....including Rhossili, Oxwich Bay, Llanmadoc and Whitford, Caswell and Langland Bays, Port Eynon and Cefn Bryn, Millwood
and Cheriton Woods and of course beautiful Three Cliffs Bay....
(all within 20 mins drive)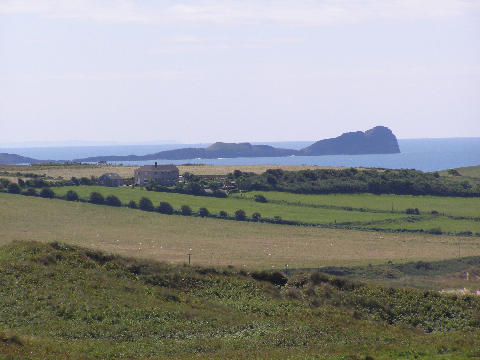 and/or day trips to

- Swansea (25 mins) and Cardiff (55 mins),
- Carmarthen (40 mins) & Llandeilo (40 mins)
(including Welsh National Botanic Gardens at Llanarthne near Cross Hands - 25 mins)
- The Black Mountains, Brynamman and Llandovery (40 mins)
- Brecon and the Brecon Beacons and Wye/Usk Valleys (50 mins)
- Pembrokeshire (50 mins) Tenby/Narberth/Saundersfoot * (60 mins)
[*including Oakwood Park / Folly Farm / Chocolate Factory]
- Haverfordwest, St Davids and Solva (65-70 mins)

Our Location
See Map below for our location. As you can see
we are located just here below the red "v" below (at Loughor)

V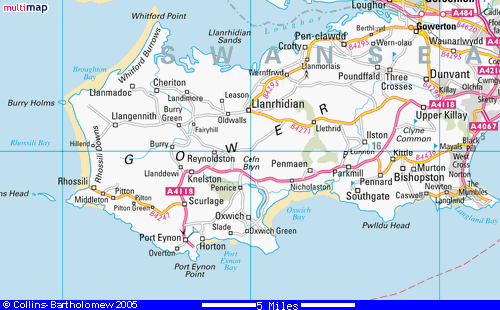 Your Rear Private Garden at Banfield Lodge



....so do something different, have a widely varied week away and visit to West Wales and see all it has to offer, natural landscapes, rural market and seaside towns, clifftop and woodland walks, wide expansive beaches, historic architecture, rivers and mountains.

Parking
You can park immediately at the front of the lodge.
Pets
Maximum of 2 Small Dogs permitted.



Your front door entrance is covered handy when raining...


Aspect
Below is the view from the bedroom at Banfield Lodge into local park lands where you can walk the dog. This is the view from the bedroom which is at the front of the Lodge. The estuary is just behind these trees with the tarmac path leading to it. It is a fantastic riverside walk, lots to see, sit and read, picnic on the estuary side grass bank etc.





Located beside the picturesque
Loughor Estuary




and only around 20-30 mins by car through Gower to beautiful
Rhossili with these stunning and acclaimed landscape views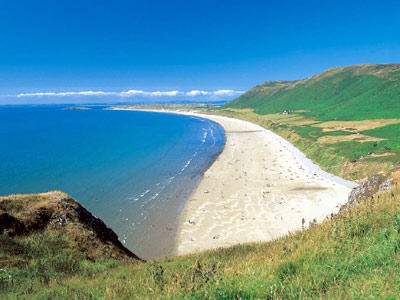 Banfield Lodge

A high quality one bedroom self-catering apartment 10 minutes drive from Gower Peninsula AONB and well placed also for day trips to explore any part of Gower or West Wales/Pembrokeshire


Banfield Lodge is a comfortable 1 bedroom ground floor fully self-contained holiday apartment (own parking and own seperate front door) in a peaceful location on the Loughor Estuary (north side of Gower Peninsula).

Tel: 01792 898038
EMAIL: Banfieldlodge@AOL.com

See our dates available at this
http://www.stayinwales.co.uk/detail.cfm?i=7892&v=6








It has a lounge and fully fitted new/clean kitchen, WC/shower room, lounge and good sized bedroom, DAB radio and DVD in both lounge and bedroom, free of charge Wifi internet. We have made an effort to equip the apartment with quality fixtures and fittings.

The bedroom at Banfield Lodge







As well as main bed (which is kingsize of course) we offer a comfortable large double leather sofa bed in the lounge complete with bedding. We offer a fully equipped kitchen with oven, hob, microwave, fridge and dishwasher.a high chair /mobile cot both available.


Facilities include off road parking. Leading from the back door is a secure garden with BBQ, table and chairs.



We are also dog friendly.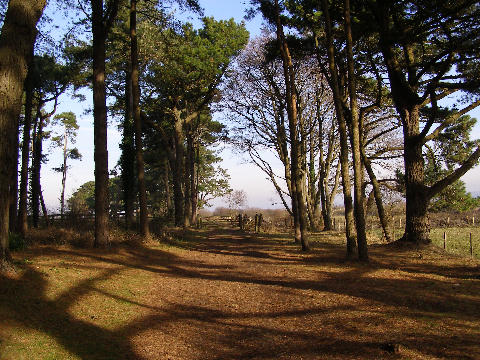 Location: In a quiet estuary position with views across the estuary to the north and farmland to the adjacent boundary. 30 Meters to the estuary park and a 3 Minute walk to the estuary shoreline, there are numerous easy walks within the park , all facilities are without charge.
We are based within a 15 minute drive of the Gower coast and a similar distance to the Carmarthenshire coast with facilities such as the popular pembrey country park overlooking the Gower and the Burry inlet and less than an hour away from Tenby and Oakwood Pleasure Park.
Local facilities include Penclacwydd national wildfowl center and the new Jack Nicklous 18 hole golf course and restaurant open to the public, local extensive Spar shop within 5 Minutes.

Activities locally
Surfing/beach sports, Cycling, Walking, Game/Sea-Fishing, Watersports, Golf, Birding.

Local Restaraunts within walking distance of Banfield Lodge.
(Children Allowed.)

The Reverend James Pub (...a Brains Brewery pub, selling fine speciality Welsh brewed ales). Bar food good quality, not expensive 5 Minute Walk.


The Porterhouse Steak Restaraunt. Great food. Worth a visit, Good value, a 15 Minute walk or 2 mins by car.



Loughor Boating Club. Open to non-members,good food, 10 Minute estuary walk.
Areas to visit close by
All parts of the Gower coastline within 15-25 mins drive, Pembrey Country Park (15 mins by car), Penclacwydd Wildfowl and Wetlands Centre (5 mins by car), Carmarthenshire, Pembrokeshire, Tenby, West Wales, Wales National Botanic Gardens (25 mins by car), Aberglasney Gardens (35 mins by car), Folly Farm, Oakwood Park, (both approx 60 mins by car).



BELOW; Broughton Bay on North Gower Peninsula. 14 miles from Banfield Lodge, 30 mins by car. Walk endlessly across to Llangennith, Rhossili, or Weobley Castle. Clifftop, beach, woodland, and dune walks.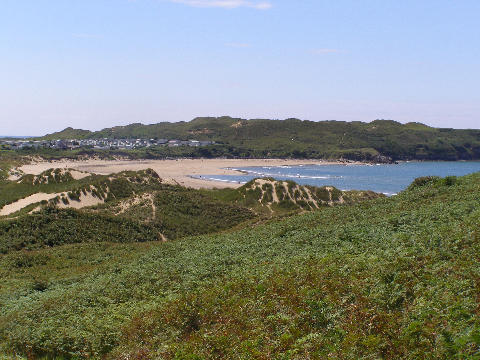 Yours with a warm welcome!

Tony and Elyssia Hinds
Owners
Banfield House
Loughor
Swansea
SA4 6FT

Tel: 01792 898038
EMAIL: Banfieldlodge@AOL.com



Press the Gallery button at top of page for many more photos and press the prices button to go to our prices page.


















We are partners of: www.the-gower.com